Over the coming weeks, Thunder Matt's Saloon will have previews of all 30 MLB teams. We're starting at the bottom and working our way up based on the current Vegas odds for winning the 2016 World Series.
Light up the gaudy flamingo because it's time for the Miami Marlins!
Subdued and tasteful...just like Miami.
2015 Finish:
71-91 (Third Place in NL East)
So Long:
Reid Brignac, Donovan Solano, Casey McGehee, Henderson Alvarez
Welcome:
Justin Maxwell, Dustan McGowan, Chris Johnson, Edwin Jackson, Wei-Yin Chen, Craig Breslow
Projected Lineup:
(via Rotochamp.com)
1. Dee Gordon 2B
2. Christian Yelich LF
3. Giancarlo Stanton RF
4. Justin Bour 1B
5. Marcell Ozuna CF
6. Martin Prado 3B
7. J.T. Realmuto C
8. Adeiny Hechavarria SS
Starting Rotation:
Jose Fernandez, Wei-Yin Chen, Tom Koehler, Jarred Cosart, Edwin Jackson
Setup: Clearly made up people like Brad Hand, Carter Capps, and Kyle Barraclough
Closer: A.J. Ramos
Rap Lyric That Sums Up Their 2015 Season:
"Jeffrey Loria wants all the glory-a, so he fired his manager and hired another...manager"
- Drake, '305 Rhapsody'
Last season was a uniquely Marlins tire fire. Their two best players missed huge chunks of time due to injuries and their owner fired yet another manager midseason only to replace him with the GM who had never coached or managed baseball before. On the bright side Dee Gordon had a surprisingly fantastic year and Ichiro pitched. Nevertheless, the season ended pretty much how you would expect with a 71-91 record. Somehow there were two worse teams in the division, so hey, third place! That's almost respectable.
The Marlins looked at all of that and pretty much said, yeah, more of that will be fine. Their big offseason acquisitions were Wei-Yin Chen, Chris Johnson, and Edwin Jackson who I assume is working for tips at this point. They have another new manager in Don Mattingly (more on him below) and a new GM. Check that.
They don't actually appear to have a GM.
Classic Marlins!
2016 will likely be better only because Jose Fernandez and Giancarlo Stanton are back. On the other hand, Don Mattingly and Chris Johnson exist, so it looks like another sub-500 season for Miami. If anyone actually cared, they would be disappointed.
Reason To Watch:
Giancarlo Stanton and Barry Bonds. What will happen when one of the best hitters in the game today pairs with possibly
the
best hitter of all time? A few possibilities:
(1) Nothing - Bonds gets bored by May and goes home. Stanton continues on his natural course.
(2) Bonds teaches him something - Can Barry actually coach him up? If Stanton can learn anything from Bonds, holy shit we're in for a treat.
(3) Bonds hooks him up with a "supplement" guy - This is my preferred scenario. I miss the steroid era and want to see Stanton hit 80 home runs. Make it happen.
Reason To Drink:
Don Mattingly. Given that Loria made his GM with no coaching experience the interim manager last year, I shouldn't be surprised they hired Mattingly, but as a Dodger fan, I can only assume he's never seen Donny in action. Don is one of the worst tacticians in the game today. He was reportedly a "good clubhouse guy," but that's the managerial equivalent of calling someone "scrappy." It's a polite way of saying they suck. Mattingly was so bad with the Dodgers I tried to think of an equivalent of WAR for managers. WARM (Wins Above Replacement Manager) would have clearly shown how terrible he is. I gave up after a few minutes.
The Fans:
The Marlins have exactly three fans: (1) Ira Liebowitz - Mr. Liebowitz moved to south Florida after retiring from a long career at a New York bank. He loves golf and his husky Goldie. (2) Eddie "Stink" Mulvane - Eddie runs a junk yard outside of Homestead and lives with his common law wife Maureen. Together they have 6 children. (3) Marco Rubio - A sweaty ne'er-do-well and son of Cuban immigrants, Marco spends most of his time interviewing for jobs way over his head.
Their Worst Contract: Don Mattingly. See above. Did he ever shave those sideburns? I hope so. He recently instituted a no facial hair policy for the Marlins. If anyone could get caught by his own facial hair policy, it's Don. Mattingly will be the 10th Marlins manager since Loria took over the team in 2002, so at least it'll all be over soon.
Fantasy Standout: Giancarlo Stanton. My "Stanton-on-roids" wet dream aside, this guy is still amazing. In 74 games last year, he lead the majors with 27 home runs and 67 RBI before his season ended due to injury. A healthy Stanton could easily jack 50+ home runs even without roids. Seriously though. Please do steroids.
Fantasy Bust: Dee Gordon. You don't think that's going to happen again do you?
The Pop Culture Equivalent To This Team Is:
Every
Pitbull
song ever. Haha, Mr. 305! That's Miami's area code gang.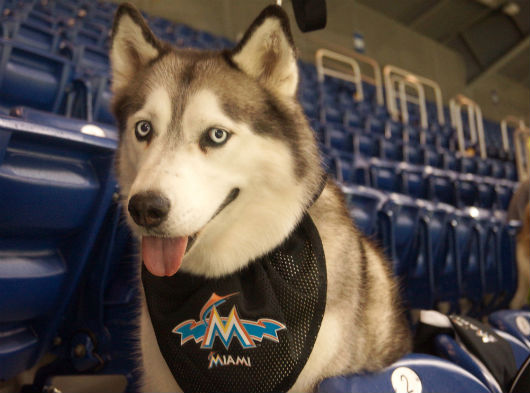 Ira's dog Goldie - She likes Jarred Cosart and eating cat poop.