Astroturf, powder blue uniforms, wearing
batting helmets in the field
to protect your jheri curl, hitting 25 homers and being considered a legitimate slugger, big-league hair, that horrible gum from packs of baseball cards.... who doesn't love baseball from the 80's? Over the next several weeks I will be looking at the best players of the decade as we assemble the
TMS All-80's Team
. We've finished with the National League and now we'll tackle the Amer
ican. To meet the criteria a player will have to have played in at least 4 seasons in the 1980's and they must have played the bulk of their games at a certai
n position during that time to qualify there. Included will be a poll on the left sidebar, so our fait
hful readers can weigh in on this great debate. But remember, we're focusing on a player's contributions in just the 1980's. What they did in the decades before and/or after are not being considered in this.

With the NL team all wrapped up it's time to focus on the American League. Today we kick things off with the catchers.

AMERICAN LEAGUE CATCHERS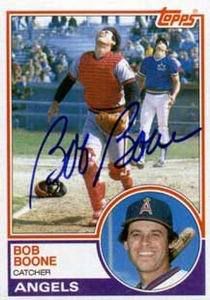 Bob Boone
California Angels (1982-88), Kansas City Royals (1989)
All-Star:
1983
Gold Gloves:
1982, 1986-89
Postseason:
1982 ALCS, 1986 ALCS
Notes:
Known more for his glove than his bat, Boone was a solid defensive catcher for the Angels in the 80's. Bob is proof that son Bret's slugging power certainly wasn't hereditary. Here's another 6 Degrees to Keith Moreland fact, the Phillies let Bob go to the Angels because young Keith was ready to take on full-time catching duties.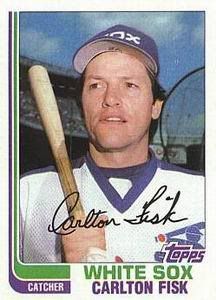 Carlton Fisk
Boston Red Sox (1980), Chicago White Sox (1981-89)
Nickname:
Pudge
Hall of Fame:
Inducted in 2000
All-Star:
1980-82, 1985
Silver Sluggers:
1981, 1985, 1988
Postseason:
1983 ALCS
Notes:
Just the opposite of Boone, the original Pudge was known for his slugging rather than his glove. Fisk made 4 All-Star teams in the decade. His 174 home runs is only second to Lance Parrish for catchers in the 80's.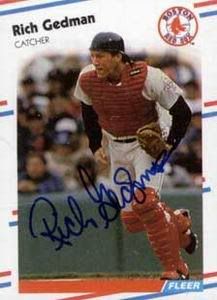 Rich Gedman
Boston Red Sox (1980-89)
All-Star:
1985-86
Postseason:
1986 WS, 1988 ALCS
Notes:
Gedman became Boston's main man behind the plate after Pudge signed with the White Sox. Rich's peak years were from 1984 to '86 where he racked up 58 home runs and 217 RBI. Hailing from Worcester, he was a local favorite.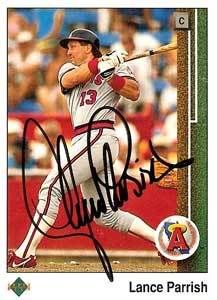 Lance Parrish
Detroit Tigers (1980-86), California Angels (1989)
Nickname:
Big Wheel
All-Star:
1983-84
Gold Gloves:
1983-85
Silver Sluggers:
1980, 1982-84, 1986
Postseason:
1984 WS
Notes:
Overall, Parrish is probably the best catcher on this list. With a handful of Gold Gloves, Silver Sluggers and a World Series ring to boot, Lance was one of the premier backstops of the decade. Parrish also had a job as a bodyguard for Tina Turner.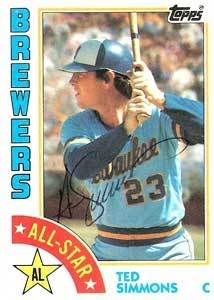 Ted Simmons
Milwaukee Brewers (1981-85)


All-Star:
1981, 1983
Postseason:
1981 ALDS, 1982 WS
Notes:
Simmons' peak years were in the 1970's with St. Louis, but he still managed to have a few solid seasons with Milwaukee in the early 80's. Looking at his numbers it's sort of surprising that Ted barely got a second glance on the Hall of Fame ballot. His numbers rival some of the other catchers currently enshrined and his Baseball Reference HOF monitor score is actually better than Carlton Fisk's.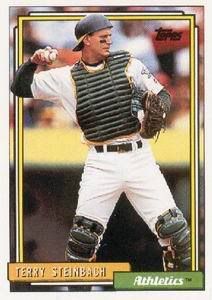 Terry Steinbach
Oakland A's (1986-89)
All-Star:
1988-89
NL Leader:
1988 ASG MVP
Postseason:
1988 WS, 1989 WS
Notes:
Steinbach emerged late in the decade, just in time to join the Bash Brothers and company for back to back to back World Series appearances. Steinbach was elected as the starting catcher on the 1988 All-Star team despite only hitting .216 and being injured for a large chunk of the first half. He silenced the naysayers however by hitting a home run in the first at bat, winning the ASG MVP that year.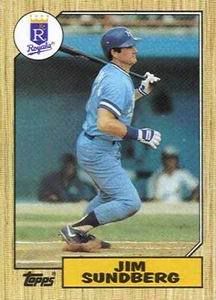 Jim Sundberg
Texas Rangers (1980-83, 1988-89), Milwaukee Brewers (1984), Kansas City Royals (1985-86)
All-Star:
1984
Gold Gloves:
1980-81
Postseason:
1985 WS
Notes:
Sundberg was good enough to be a finalist for the Texas Rangers Hometown Heroes poll this summer. In 1987 Jim was traded to the Cubs for Thad Bosley and Dave Gumpert.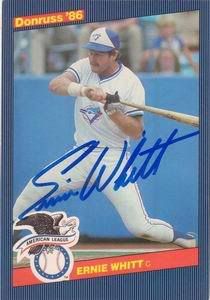 Ernie Whitt
Toronto Blue Jays (1980-89)
All-Star:
1985
Postseason:
1985 ALCS, 1989 ALCS
Notes:
Big Ern played the entire decade up in the Great White North. While never hitting more than 19 homers in a single season, his 131 for the decade is good enough for third among catchers. Ernie managed the Canadian baseball team in the 2004 Olympics.





Be sure and vote for your choices of AL Catcher for the TMS All-80's Team. Check out the poll in the left sidebar.