Astroturf, powder blue uniforms, wearing
batting helmets in the field
to protect your jheri curl, hitting 25 homers and being considered a legitimate slugger, big-league hair, that horrible gum from packs of baseball cards.... who doesn't love baseball from the 80's? Over the next several weeks I will be looking at the best players of the decade as we assemble the
TMS All-80's Team
. We will start with the National League and then we'll tackle the Amer
ican. To meet the criteria a player will have to have played in at least 4 seasons in the 1980's and they must have played the bulk of their games at a certai
n position during that time to qualify there. Included will be a poll on the left sidebar, so our fait
hful readers can weigh in on this great debate. But remember, we're focusing on a player's contributions in just the 1980's. What they did in the decades before and/or after are not being considered in this.

We've reached the final position for the National League. Over the past two weeks, the starting rotation was picked. Nolan Ryan, Dwight Gooden, Fernando Valenzuela, Steve Carlton and Orel Hershiser will make up the TMS All-80's National League pitching rotation.

NATIONAL LEAGUE RELIEF PITCHERS
Steve Bedrosian
Atlanta Braves (1981-85), Philadelphia Phillies (1986-89), San Francisco Giants (1989)
Nickname:
Bedrock
All-Star:
1987
Awards:
1987 NL Rolaids Relief, NL Cy Young
Postseason:
1982 NLCS, 1989 WS
NL Leader:
1987 Saves
Notes:
Bedrock was a solid closer for the Phillies in the mid to late 80's. In 1987 he became the first reliever to win the NL Cy Young Award since Bruce Sutter back in 1979. A less grizzly version of Jeff Reardon (I always got those two confused), Steve picked up 3 saves in the 1989 for the Giants as they took out the Cubs to win the pennant.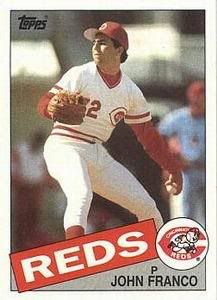 John Franco
Cincinnati Reds (1984-89)
All-Star:
1986-87, 1989
Awards:
1988 NL Rolaids Relief
NL Leader:
1988 Saves
Notes:
Franco, who just retired last year, got his start in Cincinnati and was there surefire closer for the latter half of the decade. His best season with Cincy happened in 1988 when he led the league with 39 saves and recorded a 1.57 ERA and a 1.01 WHIP. If you don't know what WHIP is, don't sweat it. You probably don't play fantasy baseball then.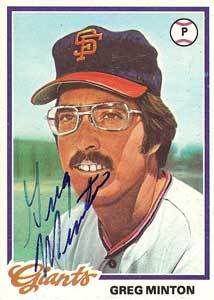 Greg Minton
San Francisco Giants (1980-87)
Nickname:
Moonie
All-Star:
1982
Notes:
Jesus, is part of the criteria for being a major league closer is that you have to look goofier than shit? Greg apparently borrowed his glasses from my high school shop teacher. And check out those teeth. Like 'em? You can buy a pack of them from little Mexican boys on the streets of Tijuana. That last comment would probably get me fired from Fox. Anyway, Greg Minton was the Giants closer. He didn't win any awards, and the Giants sucked throughout most of the 80's so he never made it to the postseason. Hell I don't even know why Greg is on this list other than for me to point and laugh at his baseball card.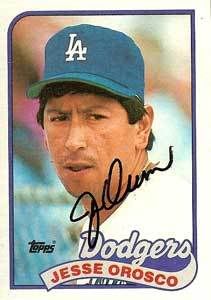 Jesse Orosco
New York Mets (1981-87), Los Angeles Dodgers (1988)
All-Star:
1983-84
Postseason:
1986 WS, 1988 NLCS
Notes:
In 1983, the Mets sucked. They finished 6th in the NL East with a 68-94 record. The team's leader in wins was not one of their starting pitchers but in fact a 26-year old reliever named Jesse Orosco. Jesse made the All-Star team that year and finished third in the Cy Young voting. Three years later, Orosco would pitch the final out of Game 7 of the World Series against the Red Sox.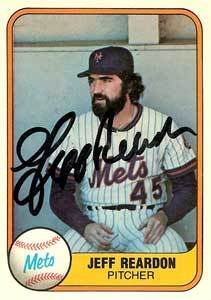 Jeff Reardon
New York Mets (1980-81), Montreal Expos (1981-86)
Nickname:
The Terminator
All-Star:
1985-86
Awards:
1985 NL Rolaids Relief
Postseason:
1981 NLCS
NL Leader:
1985 Saves
Notes:
Reardon was a great closer throughout the decade. The bulk of those years were spent up north in Montreal where he recorded 152 saves in 6 seasons. Reardon would later get a World Series ring with the Minnesota Twins. Jeff is currently 6th on the career saves list.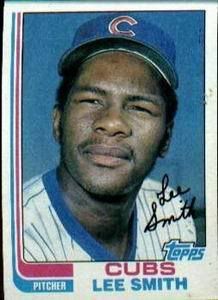 Lee Smith
Chicago Cubs (1980-87)
All-Star:
1983, 1987
Postseason:
1984 NLCS
NL Leader:
1983 Saves
Notes:
One of those relievers that probably should get a second look for the HOF, Smith got his start with the Chicago Cubs and spent most of the decade on the Northside. From 1984-87, Smith posted 4 straight 30+ save seasons. In '87 Smith was traded to the Red Sox for Al Nipper and Calvin Schiraldi. That sure worked out well for the Cubbies.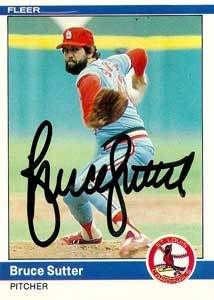 Bruce Sutter
Chicago Cubs (1980), St. Louis Cardinals (1981-84), Atlanta Braves (1985-86, 1988)
Hall of Fame:
Inducted in 2006
All-Star:
1980-81, 1984
Awards:
1981, 1982, 1984 NL Rolaids Relief
Postseason:
1982 WS
NL Leader:
1980-82, 1984 Saves
Notes:
The true pioneer of the split-finger fastball and the grizzly-closer beard, Bruce Sutter was a phenomenal reliever in the early part of the decade and HOF voters finally came to their senses this past year and voted him in. Far and away the best pitcher on this list.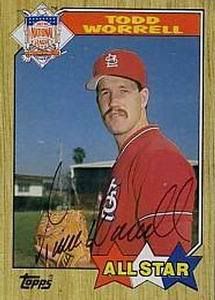 Todd Worrell
St. Louis Cardinals (1985-89)
All-Star:
1988
Awards:
1986 NL Rookie of the Year, NL Rolaids Relief
Postseason:
1985 WS, 1987 WS
NL Leader:
1986 Saves
Notes:
In 1986, Todd was the first reliever since Steve Howe in 1980 to win the NL ROY, and the last to do so until Scott Williamson won it in 1999. Todd is the only player to ever win the ROY and the Rolaids Relief Award in the same season. Actually he's the only player to win both of those awards ever, regardless if they were in the same year. And unless Huston Street gets his shit together, that may not change any time soon.


Be sure and vote for your choices of NL Relief Pitcher for the TMS All-80's Team. Check out the poll in the left sidebar.