Astroturf, powder blue uniforms, wearing
batting helmets in the field
to protect your jheri curl, hitting 25 homers and being considered a legitimate slugger, big-league hair, that horrible gum from packs of baseball cards.... who doesn't love baseball from the 80's? Over the next several weeks I will be looking at the best players of the decade as we assemble the
TMS All-80's Team
. We've finished with the National League and now we'll tackle the Amer
ican. To meet the criteria a player will have to have played in at least 4 seasons in the 1980's and they must have played the bulk of their games at a certai
n position during that time to qualify there. Included will be a poll on the left sidebar, so our fait
hful readers can weigh in on this great debate. But remember, we're focusing on a player's contributions in just the 1980's. What they did in the decades before and/or after are not being considered in this.

Last week we covered AL 1B. Don Mattingly won the poll and will be the starting first baseman for the American League.

AMERICAN LEAGUE SECOND BASEMEN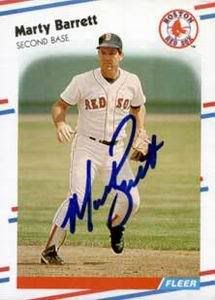 Marty Barrett
Boston Red Sox (1982-89)
Awards:
1986 ALCS MVP
Postseason:
1986 WS, 1988 ALCS
Notes:
Marty Barrett was the Red Sox 2B for a large chunk of the 80's. He won no awards for his defense, never made an All-Star team, and was far from being a feared hitter. However he did win the 1986 ALCS MVP and indirectly caused Donnie Moore's suicide. Marty is of no relation to Michael Barrett.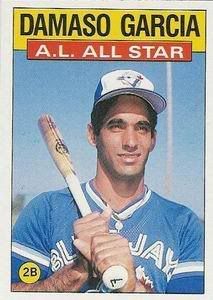 Damaso Garcia
Seattle Mariners (1980-86)
All-Star:
1984-85
Silver Sluggers:
1982
Postseason:
1985 ALCS
Notes:
By far the greatest ballplayer of all-time named Damaso, Garcia became Toronto's career stolen base leader. Originally starting his career with Yankees, Damaso was part of a multi-player trade in 1979 that helped usher in the Rick Cerone Era in New York.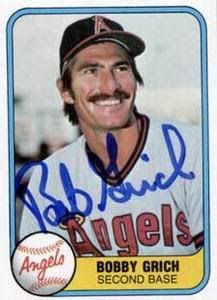 Bobby Grich
California Angels (1980-86)
All-Star:
1980, 1982
Silver Sluggers:
1981
Postseason:
1982 ALCS, 1986 ALCS
League Leader:
1981 Home Runs
Notes:
Sporting a solid 80's 'stache, Grich was a force at the plate for the Halos. Winning the home run title in the strike-shortened 81 season, Bobby also batted a career-high .304 that year.
Willie Randolph
New York Yankees (1980-88)
All-Star:
1980-81, 1987, 1989(NL)
Silver Sluggers:
1980
Postseason:
1980 ALCS, 1981 WS
League Leader:
1980 BB
Notes:
According to
Baseball Library
, Randolph was the starting 2B in New York for "13 seasons and 32 shortstops". Willie's consistency was an anchor during the "Bronx Zoo" years on through to the mid to late 80's.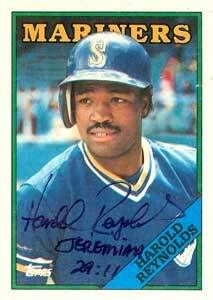 Harold Reynolds
Seattle Mariners (1983-89)


All-Star:
1987-88
Gold Gloves:
1988-89
League Leader:
1987 Stolen Bases, 1988 Triples
Notes:
Known for his speed as well as his glove, the former Baseball Tonight commentator is the only player to lead the AL in steals in the 80's who isn't named Rickey. Check out the autograph on the baseball card. I looked up Jeremiah 29:11 and this is what it read: "
For I know the plans I have for you," declares the LORD, "plans to prosper you and not to harm you, plans to give you hope and a future." That's nice. That also gives further proof that ESPN is in fact ran by Lucifer.
Lou Whitaker
Detroit Tigers (1980-89)
Nickname:
Sweet Lou
All-Star:
1983-87
Gold Gloves:
1983-85
Silver Sluggers:
1983-85, 1987
Postseason:
1984 WS, 1987 ALCS
Notes:
Part of the legendary Trammell-Whitaker middle infield, the lifelong Tiger is considered one of the premier second basemen of the decade. In 1985 Lou forgot his uniform for the All-Star Game, leaving him to wear a uni that was put together from items purchased at the ballpark. Trammell and Whitaker are one of only nine 2B/SS duos to win Gold Gloves in the same year. Only Vizquel/Alomar and Renteria/Vina have done it since then.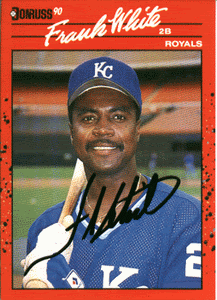 Frank White
Kansas City Royals (1986-89)
All-Star:
1981-82, 1986
Awards:
1980 ALCS MVP
Gold Gloves:
1980-82, 1986-87
Silver Sluggers:
1986
Postseason:
1980 WS, 1981 ALDS, 1984 ALCS, 1985 WS
Notes:
There once was a time when the Royals were good, really good. Kansas City made the postseason 4 times in the 1980's and each time Frank White was one of the key factors getting them there. An outstanding defensive 2B, White won 5 Gold Gloves in the 80's, more than any other AL player at his position.
Be sure and vote for your choices of AL Second Baseman for the TMS All-80's Team. Check out the poll in the left sidebar.