Astroturf, powder blue uniforms, wearing
batting helmets in the field
to protect your jheri curl, hitting 25 homers and being considered a legitimate slugger, big-league hair, that horrible gum from packs of baseball cards.... who doesn't love baseball from the 80's? Over the next several weeks I will be looking at the best players of the decade as we assemble the
TMS All-80's Team
. We've finished with the National League and now we'll tackle the Amer
ican. To meet the criteria a player will have to have played in at least 4 seasons in the 1980's and they must have played the bulk of their games at a certai
n position during that time to qualify there. Included will be a poll on the left sidebar, so our fait
hful readers can weigh in on this great debate. But remember, we're focusing on a player's contributions in just the 1980's. What they did in the decades before and/or after are not being considered in this.

Last week we covered AL 2B. Lou Whitaker won the poll and will be the starting second baseman for the American League.

AMERICAN LEAGUE THIRD BASEMEN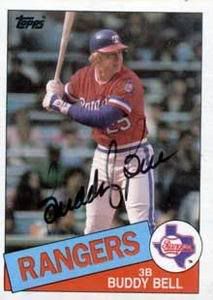 Buddy Bell
Texas Rangers (1980-85, 1989)
All-Star:
1980-82, 1984
Gold Gloves:
1980-84
Silver Sluggers:
1984
Notes:
Bell is part of a long family tradition. His father Gus Bell was a popular outfielder for the Reds throughout the 1950's, and his son, David Bell currently plays 3B for the Milwaukee Brewers. Buddy provided the Rangers with a decent bat and an outstanding glove, winning 6 straight Gold Gloves from 1979 to 1984.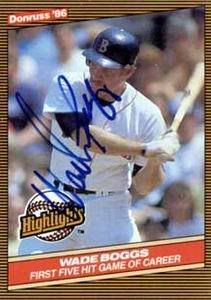 Wade Boggs
Boston Red Sox (1982-89)
Hall of Fame:
Inducted in 2005
All-Star:
1985-89
Silver Sluggers:
1983, 1986-89
Postseason:
1986 WS, 1988 ALCS
League Leader:
AVG (83, 85-88), OBP (83, 85-89), R (88-89), H (85), 2B (88-89)
Notes:
Winning 5 batting titles in the 80's, Boggs was one of the most prolific hitters of his era. Boggs was a very superstitious player. According to his
Wikipedia entry
, Boggs "ate chicken before every game, woke up at the same time every day, took exactly 150 ground balls in practice, took batting practice at 5:17 and ran sprints at 7:17." Wade also has an urban legend that he once drank 64 beers on a cross-country flight once, as well as being an admitted sex addict.
George Brett
Kansas City Royals (1980-89)
Nickname:
Mullet
Hall of Fame:
Inducted in 1999
All-Star:
1980-88
Awards:
1980 AL MVP, 1985 ALCS MVP
Gold Gloves:
1985
Silver Sluggers:
1980, 1985, 1988
Postseason:
1980 WS, 1981 ALDS, 1984 ALCS, 1985 WS
League Leader:
1980 AVG, OBP, SLG, 1983 SLG, 1985 SLG
Notes:
The only guy who's accomplishments beat that of Mr. Boggs. Well before Kenny Rogers came along, Brett was part of the real "
Pine Tar Incident
". Brett apparently is the guy that coined the term "the Mendoza Line". He is also good friends with Rush Limbaugh, who stood up with him at his wedding.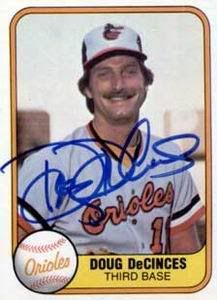 Doug DeCinces
Baltimore Orioles (1980-81), California Angels (1982-87)
All-Star:
1983
Silver Sluggers:
1982
Postseason:
1982 ALCS, 1986 ALCS
Notes:
I know nothing about Doug DeCinces except that he was a decent hitting 3B for the Angels for a bulk of the 80's. Doug was Baltimore's replacement for Brooks Robinson at 3B and played there until 1981 when he was replaced by another HOFer named Cal Ripken.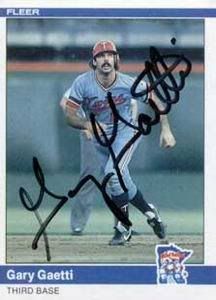 Gary Gaetti
Minnesota Twins (1981-89)


Nickname:
The Rat
All-Star:
1988-89
Awards:
1987 ALCS MVP
Gold Gloves:
1986-89
Postseason:
1987 WS
Notes:
Remembered more for his big bat, Gaetti actually sported a pretty good glove at the hot corner as well, winning four consecutive Gold Gloves at the end of the decade. Gary Gaetti's play has also spawned a cult, which will most certainly get a link on our page in the near future. While never confirmed, it is believed that Sacha Baron Cohen got the inspiration for the look of his character, Borat from Gary Gaetti.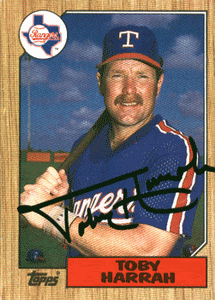 Toby Harrah
Cleveland Indians (1980-83), New York Yankees (1984), Texas Rangers (1985-86)
All-Star:
1982
Notes:
This guy was a top ballplayer? He looks like that old guy in your neighborhood. You know the one who compulsively takes care of his impeccable lawn, and smokes Marlboro Reds, and wonders why the local kids don't get a job and make something of themselves. Harrah was more of a top 3B in the 70's but he did put together a good season in 1982. He's far and away the greatest ballplayer ever that has a pallindromic last name.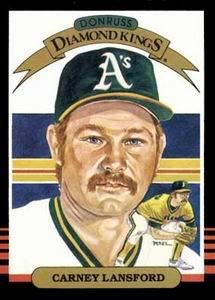 Carney Lansford
California Angels (1980), Boston Red Sox (1981-82), Oakland A's (1983-89)
All-Star:
1988
Silver Sluggers:
1981
Postseason:
1988 WS, 1989 WS
League Leader:
1981 AVG
Notes:
Holy crap, it's Toby Harrah's illegitimate brother! The resemblance is uncanny. I think I may need to seek grant money to fund research in order to get to the bottom of this. Maybe we can take money from Brant's grant he received to prove whether
Patrick Ewing
and
Scott Brosius
are in fact the missing links.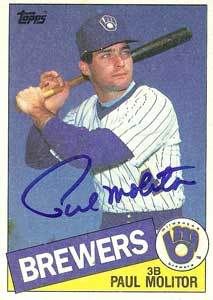 Paul Molitor
Milwaukee Brewers (1980-89)


Nickname:
The Ignitor
Hall of Fame:
Inducted in 2004
All-Star:
1980, 1985, 1988
Silver Sluggers:
1987, 1988
Postseason:
1981 ALDS, 1982 WS
League Leader:
1982 Runs, 1987 Runs & Doubles
Notes:
Wow, it's been rare to get any HOFer's on these lists, but to get three at one position is phenomenal. Molitor is one of the only few ballplayers in history to have a .300 lifetime AVG, 3,000 hits and 500 stolen bases. The only others to have achieved this feat were Ty Cobb, Eddie Collins, and Honus Wagner.
Be sure and vote for your choices of AL Third Baseman for the TMS All-80's Team. Check out the poll in the left sidebar.