Astroturf, powder blue uniforms, wearing
batting helmets in the field
to protect your jheri curl, hitting 25 homers and being considered a legitimate slugger, big-league hair, that horrible gum from packs of baseball cards.... who doesn't love baseball from the 80's? Over the next several weeks I will be looking at the best players of the decade as we assemble the
TMS All-80's Team
. We've finished with the National League and now we'll tackle the Amer
ican. To meet the criteria a player will have to have played in at least 4 seasons in the 1980's and they must have played the bulk of their games at a certai
n position during that time to qualify there. Included will be a poll on the left sidebar, so our fait
hful readers can weigh in on this great debate. But remember, we're focusing on a player's contributions in just the 1980's. What they did in the decades before and/or after are not being considered in this.

Last week we covered AL 3B. George Brett won the poll and will be the starting third baseman for the American League.

AMERICAN LEAGUE SHORTSTOPS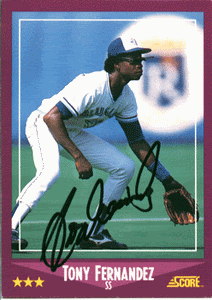 Tony Fernandez
Toronto Blue Jays (1983-89)
All-Star:
1986-87, 1989
Gold Gloves:
1986-89
Postseason:
1985 ALCS, 1989 ALCS
League Leader:
1986 Singles
Notes:
Tony was an outstanding defensive shortstop for the Blue Jays in the 80's. And while he never won a World Series with them, he is indirectly responsible for their 1993 title. Fernandez, along with Fred McGriff was traded to San Diego for Roberto Alomar and
Joe Carter
.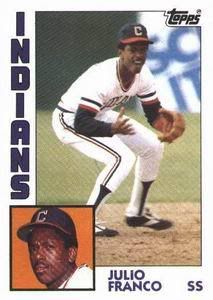 Julio Franco
Cleveland Indians (1983-88), Texas Rangers (1989)
All-Star:
1989
Silver Sluggers:
1988-89
Notes:
Julio is still going strong in the bigs, more than 24 years after his debut. Other things that happened in 1982 other than Franco making his first appearance: David Wright, Grady Sizemore and Jeremy Bonderman were born, John Belushi died, the top single on the charts was "Physical" by Olivia Newton-John, the first Gay Games are held in San Francisco, and Barney Miller is cancelled.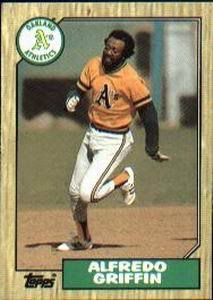 Alfredo Griffin
Toronto Blue Jays (1980-84). Oakland A's (1985-87)
All-Star:
1984
Gold Gloves:
1985
League Leader:
1980 Triples
Notes:
Hey, relax, it's Alfredo Griffin.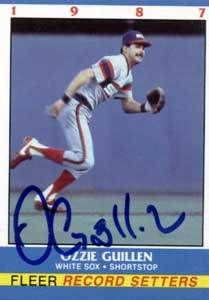 Ozzie Guillen
Chicago White Sox (1985-89)
All-Star:
1988
Awards:
1985 AL Rookie of the Year
Notes:
Looking at the Similar Batters list on Ozzie's Baseball Reference page. The top guy listed is Alfredo Griffin. Ha, you wish Ozzie. You couldn't hold Alfredo's jockstrap!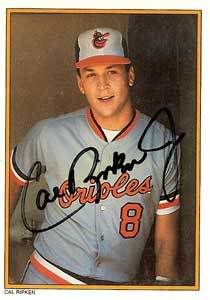 Cal Ripken
Baltimore Orioles (1981-89)


Nickname:
Iron Man
Hall Of Fame:
Undoubtedly in 2007
All-Star:
1983-89
Awards:
1982 AL Rookie of the Year, 1983 AL MVP
Silver Sluggers:
1983-86, 1989
Postseason:
1983 WS
League Leader:
1983 Hits, Runs, Doubles
Notes:
Obviously we all know about this guy. Cal was a freakin' cyborg, playing in 2,632 consecutive games. He will no doubt be elected into the Hall of Fame this next year. But honestly, can you be considered one of the greatest of the 80's without ever having donned a moustache? Fascist.
Alan Trammell
Detroit Tigers (1980-89)
All-Star:
1980, 1984-85, 1987-88
Awards:
1984 World Series MVP
Gold Gloves:
1980-81, 1983-84
Silver Sluggers:
1987-88
Postseason:
1984 WS, 1987 ALCS
Notes:
Is that a collection of sex offender mug shots? Of course not. It's the 1978 rookie shortstops! Although Mickey Klutts may have well been a child molestor. Has anyone even heard of that guy? Anyway, Trammell was one of the top guys for the Tigers throughout the decade and was instrumental in their championship run in 1984.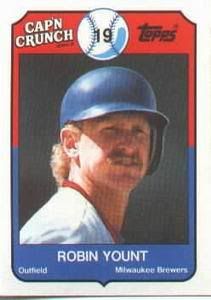 Robin Yount
Milwaukee Brewers (1980-89)
Hall of Fame:
Inducted in 1999
All-Star:
1980, 1982-83
Awards:
1982 AL MVP, 1989 AL MVP
Gold Gloves:
1982
Silver Sluggers:
1980, 1982, 1989
Postseason:
1981 ALDS, 1982 WS
League Leader:
1980 Doubles, 1982 SLG, Hits, Doubles, 1983 Triples, 1988 Triples
Notes:
Like Pedro Guerrero in the NL, placing Robin Yount in one of these polls was difficult because he played different positions throughout the decade. However, Robin logged the most time at SS in the 80's than anywhere else, although during his MVP year in '89, he was primarily an outfielder. Well before the likes of Nomar, A-Rod and Tejada, Yount emerged as a prototypical power-hitting shortstop.
Be sure and vote for your choices of AL Shortstop for the TMS All-80's Team. Check out the poll in the left sidebar.