Astroturf, powder blue uniforms, wearing
batting helmets in the field
to protect your jheri curl, hitting 25 homers and being considered a legitimate slugger, big-league hair, that horrible gum from packs of baseball cards.... who doesn't love baseball from the 80's? Over the next several weeks I will be looking at the best players of the decade as we assemble the
TMS All-80's Team
. We will start with the National League and then we'll tackle the Amer
ican. To meet the criteria a player will have to have played in at least 4 seasons in the 1980's and they must have played the bulk of their games at a certai
n position during that time to qualify there. Included will be a poll on the left sidebar, so our fait
hful readers can weigh in on this great debate. But remember, we're focusing on a player's contributions in just the 1980's. What they did in the decades before and/or after are not being considered in this.

Last time we tackled the NL LF. Tim Raines won the online poll and has been named the starting LF to the TMS All-80's National League Team.

NATIONAL LEAGUE CENTER FIELD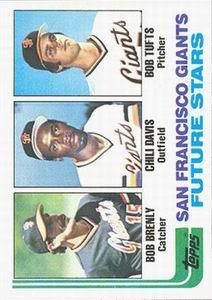 Chili Davis
San Francisco Giants (1981-87)
All-Star:
1984, 1986
Postseason:
1987 NLCS
Notes:
Chili brought speed and solid bat to the Giants lineup. He's also the best outfielder in major league history named after an item on
Wendy's Super Value Menu
. Shown at right is Chili's rookie card. It was still back in the days when Topps wouldn't give rookies their own card so everyone had to share their first card with some other guy. So Chili's card is ruined by Bob Tufts choading it up on the right. At least Brenly managed a World Series champion. What did Tufts ever do besides be trade fodder for the Giants to acquire
Atlee Hammaker
?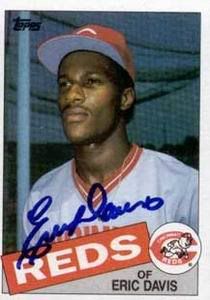 Eric Davis
Cincinnati Reds (1984-89)
All-Star:
1987, 1989
Gold Gloves:
1987-89
Silver Sluggers:
1987, 1989
Notes:
Its amazing that given the numbers Davis put up in the 80's, the most games he ever played in a season is only 135. Davis is one of those guys that makes you wonder what he could've done had he played a full career, relatively healthy. Either way he was a force in center field for the Reds, picking up 3 Gold Gloves in the decade. He later went on to the Dodgers where he enjoyed driving the car while Vince Coleman
threw fireworks at kids
or something.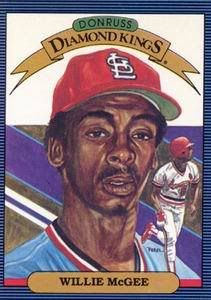 Willie McGee
St. Louis Cardinals (1982-89)
All-Star:
1983, 1985, 1987, 1988
Awards:
1985 NL MVP
Gold Gloves:
1983, 1985, 1986
Silver Sluggers:
1985
Postseason:
1982 WS, 1985 WS, 1987 WS
NL Leader:
1985 Hits, AVG, Triples
Notes:
Willie was the anchor of the Cardinals outfield for most of the decade. Baffling opponents with his bat and his glove, McGee played on three World Series teams and in 1985 won the National League MVP award. While Cooperstown passed on Willie, he was a first ballot inductee to the Ugly Athlete Hall of Fame, home to other notable freakshows such as
Tom Henke
and
Otis Nixon
.
Dale Murphy
Atlanta Braves (1980-89)
Nickname:
The Murph
All-Star:
1980, 1982-87
Awards:
1982 & 1983 NL MVP
Gold Gloves:
1982-86
Silver Sluggers:
1982-85
Postseason:
1982 NLCS
NL Leader:
1982 RBI, 1983 RBI, 1984 HR, 1985 HR
Notes:
There's been so much talk from a group of folks talking about how much of a crime it is that Jim Rice isn't in the Hall of Fame. While I agree with them, why is there no love for Dale? No one hit more home runs in the 80's than him, he won back to back MVP awards and was one of the most feared sluggers for a large chunk of the decade. Plus one thing that he even has over Rice is that he's pretty nice guy too. Enough is enough. Put Murph in the Hall.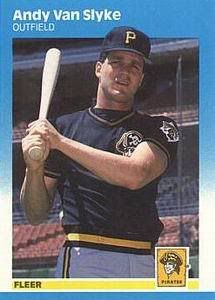 Andy Van Slyke
St. Louis Cardinals (1983-86), Pittsburgh Pirates (1987-89)
All-Star:
1988
Gold Gloves:
1988-89
Silver Sluggers:
1988
Postseason:
1985 WS
Notes:
Van Slyke didn't play as much with the Cardinals. It wasn't until he was sent along with Spanky LaValliere to Pittsburgh that he had his chance to shine. Andy had a career year in 1988, hitting .288 with 25 homers, 100 RBI and 101 R. He could run too, swiping 184 bases in the 80's.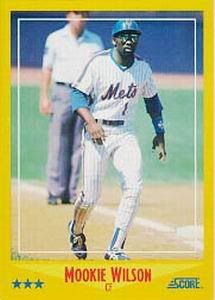 Mookie Wilson
New York Mets (1980-89)
Postseason:
1986 WS, 1988 NLCS
Notes:
Why the hell is he on here? Because he's Mookie frickin' Wilson, that's why. I was running low on candidates and I wanted to get at least 6 on the list so Mookie got the call. Despite the lack of accolades, Mookie was a pretty decent ballplayer. He even stole 50+ bases in back to back seasons. Plus I couldn't resist a chance to stick it to Red Sox fans.


Be sure and vote for your choice of NL Center Fielder for the TMS All-80's Team. Check out the poll in the left sidebar.