Astroturf, powder blue uniforms, wearing
batting helmets in the field
to protect your jheri curl, hitting 25 homers and being considered a legitimate slugger, big-league hair, that horrible gum from packs of baseball cards.... who doesn't love baseball from the 80's? Over the next several weeks I will be looking at the best players of the decade as we assemble the
TMS All-80's Team
. We will start with the National League and then we'll tackle the Amer
ican. To meet the criteria a player will have to have played in at least 4 seasons in the 1980's and they must have played the bulk of their games at a certai
n position during that time to qualify there. Included will be a poll on the left sidebar, so our fait
hful readers can weigh in on this great debate. But remember, we're focusing on a player's contributions in just the 1980's. What they did in the decades before and/or after are not being considered in this.

We're nearing the final stretch here for the National League. This last week, Dale Murphy won the online poll and has been named the starting CF to the TMS All-80's National League Team.

NATIONAL LEAGUE RIGHT FIELD
Andre Dawson
Montreal Expos (1980-86), Chicago Cubs (1987-89)
Nickname:
Hawk
All-Star:
1981-83, 1987-89
Awards:
1987 NL MVP
Gold Gloves:
1980-85, 1987-88
Silver Sluggers:
1980, 1981, 1983, 1987
Postseason:
1981 NLCS, 1989 NLCS
NL Leader:
1983 Hits, 1987 HR, 1987 RBI
Notes:
I still remember my Awesome Dawson t-shirt that I got outside of Wrigley Field when I was a kid. Hawk was one of my favorite players growing up. Before his MVP season with the Cubs, Dawson was an outstanding right fielder for the Expos, picking up 6 Gold Gloves while playing in Montreal. Unfortunately it was the nasty artificial turf of Olympic Stadium that tore up his knees and abruptly ended what could have been an even more dominate career. In his prime he could hit, run and play defense, making him one of the best outfielders of his decade.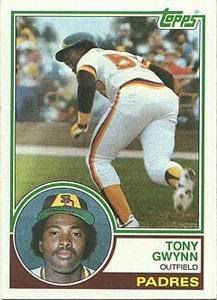 Tony Gwynn
San Diego Padres (1982-89)
Hall of Fame:
Likely inducted in 2007
All-Star:
1984-87, 1989
Gold Gloves:
1986, 1987, 1989
Silver Sluggers:
1984, 1986, 1987, 1989
Postseason:
1984 WS
NL Leader:
1984, 1987-89 AVG, 1986 Runs, 1984, 1986, 1987, 1989 Hits
Notes:
An absolute shoo-in to be inducted into the Hall of Fame this coming spring, along with Cal Ripken. Tony played the first half of his career in the 1980's and certainly left his mark, winning 4 batting titles. A career .338 batter, Gwynn was the model of consistency at the plate who also backed it up with solid glove work in right field.
Pedro Guerrero
Los Angeles Dodgers (1980-88), St. Louis Cardinals (1988-89)
All-Star:
1981, 1983, 1985, 1987, 1989
Awards:
1981 WS MVP
Silver Sluggers:
1982
Postseason:
1981 WS, 1983 NLCS, 1985 NLCS
NL Leader:
1985 OBP, 1985 SLG, 1989 Doubles
Notes:
Behold the majesty of Pedro Guerrero. If there was any player that deserved his own
Chuck Norris-style
fact website it's Pedro. His legend has grown bigger than the man himself, well, at least here at the Saloon it has. Who doesn't love a good anecdote about Pedro, whether it has any semblance of truth or not?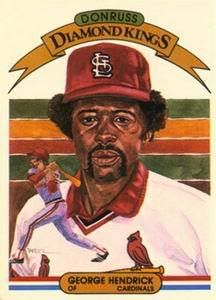 George Hendrick
St. Louis Cardinals (1980-84), Pittsburgh Pirates (1985)
All-Star:
1980, 1983
Silver Sluggers:
1980, 1983
Postseason:
1982 WS
Notes:
I'm not going to deny George's place on this list, but when stacked against these other virtual juggernauts of the outfield he doesn't fare very well. Nonetheless before some of these other guys even got started in the bigs, Hendrick was slugging the crap out of the ball in St. Louis driving in over 100 runs in 1980 and 1982.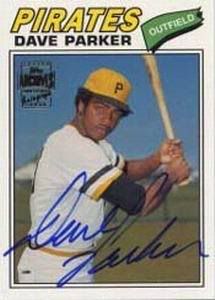 Dave Parker
Pittsburgh Pirates (1980-83), Cincinnati Reds (1984-87)
Nickname:
Cobra
All-Star:
1980, 1981, 1985, 1986
Silver Sluggers:
1985, 1986
Postseason:
1985 WS
Notes:
Like our friend over at Mondesi's House says, "Parker was one scary hitter." But like the late Rick James unfortunately said, "Cocaine is a hell of a drug." Parker went from fearsome slugger, to fat, bloated also-ran once he began doing coke. He did bounce back and have a couple great years in Cincinnati later on. Parker also sported the nickname Cobra which is probably one of the most badass names ever in baseball and was later the inspiration for King Cobra malt liquor*. Nobody has a good nickname any more. Now it's all about the stupid abbreviated name/initials combo. A-Rod, T.O., K-Fed. Lame. Why can't anyone have a kickass nickname? Oh I don't know, like Thunder Matt for example.

*

No, not really.



Darryl Strawberry
New York Mets (1983-89)
All-Star:
1984-89
Awards:
1983 NL ROY
Silver Sluggers:
1988
Postseason:
1986 WS, 1988 NLCS
NL Leader:
1988 SLG, 1988 HR
Notes:
Jesus, insert the Rick James quote here as well. You figure Darryl stopped being productive when he was 29 years old. Just think what kind of numbers he could have put up had he stayed clean through his 30's? Nonetheless Darryl's stats in the 1980's speak for themselves. Plus who can forget his memorable peformance on The Simpsons?

Be sure and vote for your choice of NL Right Fielder for the TMS All-80's Team. Check out the poll in the left sidebar.