Astroturf, powder blue uniforms, wearing
batting helmets in the field
to protect your jheri curl, hitting 25 homers and being considered a legitimate slugger, big-league hair, that horrible gum from packs of baseball cards.... who doesn't love baseball from the 80's? Over the next several weeks I will be looking at the best players of the decade as we assemble the
TMS All-80's Team
. We will start with the National League and then we'll tackle the Amer
ican. To meet the criteria a player will have to have played in at least 4 seasons in the 1980's and they must have played the bulk of their games at a certai
n position during that time to qualify there. Included will be a poll on the left sidebar, so our fait
hful readers can weigh in on this great debate. But remember, we're focusing on a player's contributions in just the 1980's. What they did in the decades before and/or after are not being considered in this.

Last time we tackled the NL SS. Ozzie Smith won the online poll and has been named the starting SS to the TMS All-80's National League Team.

NATIONAL LEAGUE LEFT FIELD
Dusty Baker
Los Angeles Dodgers (1980-83), San Francisco Giants (1984)
All-Star:
1981-82
Gold Gloves:
1981
Silver Sluggers:
1980-81
Notes:
Way back before he was our favorite whipping boy in Chicago, Dusty was fairly decent ballplayer. While his heydays were in the 1970's (You know he batted behind Hank Aaron? No really he did. He
rarely
mentions it), Dusty still managed a couple good years in the 80's making the All-Star team a couple times and even getting a Gold Glove.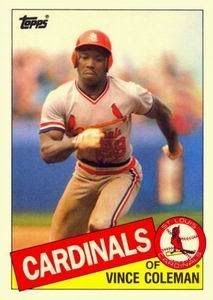 Vince Coleman
St. Louis Cardinals (1985-89)
Nickname:
Vincent Van Go
All-Star:
1988-89
Awards:
1985 NL ROY
Postseason:
1985 NLCS, 1987 WS
NL Leader:
1985-89 Stolen Bases
Notes:
In the mid to late 80's, a kid named Vince Coleman gave Rickey Henderson a run for his money on the basepaths. In his first three seasons, Coleman stole a total of 326 bases. He was also the last player in the NL to top 80 steals in a season. He later went on to New York where he
threw fireworks at kids
or something.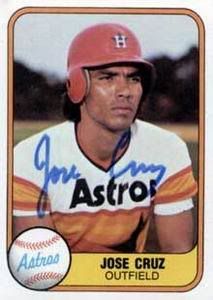 Jose Cruz
Houston Astros (1980-87)
Nickname:
Cheo
All-Star:
1980, 1985
Silver Sluggers:
1983-84
Postseason:
1980 NLCS, 1981 NLDS, 1986 NLCS
Notes:
Long before his son drove us crazy in fantasy leagues with his terribly inconsistent play, Jose Cruz Sr. was the model of consistency, as he batted over .300 a handful of seasons for the 'stros in the 80's. He was also voted "Sexiest outfielder" in 1983 by Latin Beat magazine.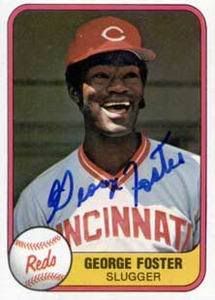 George Foster
Cincinnati Reds (1980-81), New York Mets (1982-86)
All-Star:
1981
Silver Sluggers:
1981
Notes:
Foster had his best years in the 70's playing for the Reds, but he still put up some decent years in the early 80's, earning him an All-Star nod and a Silver Slugger in 1981. Like Dave Concepcion, Joe Morgan can't understand why George isn't in the Hall of Fame. Shit, why not? He'd be a better candidate than frickin' Tony Perez was. One thing's for certain,
George's moustache
was a first-ballot inductee in the Sports Hair Hall of Fame.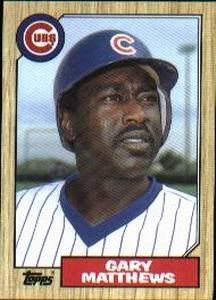 Gary Matthews
Atlanta Braves (1980), Philadelphia Phillies (1981-83), Chicago Cubs (1984-87)
Nickname:
Sarge
Awards:
1983 NLCS MVP
Postseason:
1981 NLDS, 1983 WS, 1984 NLCS
NL Leader:
1984 OBP (.410), 1984 BB (103)
Notes:
Good old Sarge. Who doesn't love this guy? Matthews was an offensive machine for the Phillies and Cubs, helping both into the postseason. In 1983, Matthews destroyed the Dodgers in with 3 homers and 8 RBI en route to becoming the NLCS MVP. In 1984 while playing for the Cubs he had one of his greatest seasons, amassing 103 BB with only 97 strikeouts. If only the Cubs of today could show that kind of plate discipline (

*cough* Jacque Jones *cough*

)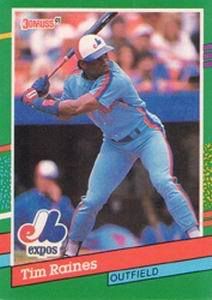 Tim Raines
Montreal Expos (1980-89)
Nickname:
Rock
All-Star:
1981-87
Silver Sluggers:
1986
Awards:
1987 ASG MVP
Postseason:
1981 NLCS
NL Leader:
1981-84 Stolen Bases, 1986 AVG, 1986 OBP, 1984 Doubles
Notes:
Rock seems to be one of those forgotten guys of that era. Playing the entire decade in Montreal, Raines put up monster numbers. He led the NL in steals four straight years until that Vince guy showed up. He won a batting title in 1986 and made 7 All-Star teams.


Be sure and vote for your choice of NL Left Fielder for the TMS All-80's Team. Check out the poll in the left sidebar.