Astroturf, powder blue uniforms, wearing
batting helmets in the field
to protect your jheri curl, hitting 25 homers and being considered a legitimate slugger, big-league hair, that horrible gum from packs of baseball cards.... who doesn't love baseball from the 80's? Over the next several weeks I will be looking at the best players of the decade as we assemble the
TMS All-80's Team
. We've finished with the National League and now we'll tackle the Amer
ican. To meet the criteria a player will have to have played in at least 4 seasons in the 1980's and they must have played the bulk of their games at a certai
n position during that time to qualify there. Included will be a poll on the left sidebar, so our fait
hful readers can weigh in on this great debate. But remember, we're focusing on a player's contributions in just the 1980's. What they did in the decades before and/or after are not being considered in this.

Last week we covered AL LF. Rickey Henderson was very pleased to see that Rickey Henderson had won the poll, making Rickey Henderson the starting left fielder for the American League.

AMERICAN LEAGUE CENTER FIELDERS
Fred Lynn
Boston Red Sox (1980), California Angels (1981-84), Baltimore Orioles (1985-88), Detroit Tigers (1988-89)
All-Star:
1980-83
Awards:
1982 ALCS MVP, 1983 ASG MVP
Gold Gloves:
1980
Postseason:
1982 ALCS
Notes:
Lynn was a solid center fielder, both offensively and defensively. Fred won a handul of Gold Gloves with the Boston Red Sox. When he was traded to California, Fred still managed to put up decent power numbers, but his AVG took a nosedive as he moved away from lefty hitter-friendly Fenway Park. His 306 career homers is 9th all-time among center fielders.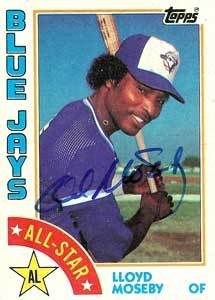 Lloyd Moseby
Toronto Blue Jays (1980-89)
All-Star:
1986
Silver Sluggers:
1983
Postseason:
1985 ALCS, 1989 ALCS
League Leader:
1984 Triples
Notes:
Along with George Bell, Jesse Barfield, Moseby made up the center of what was one of the best offensive outfields of the 80's. Lloyd could hit for power as well as steal bases. He once stole second base, ran back to first, and then stole second again all in one play.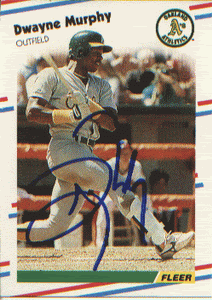 Dwayne Murphy
Oakland A's (1980-87), Detroit Tigers (1988)
Gold Gloves:
1980-85
Postseason:
1981 ALCS
Notes:
While he never was an All-Star hitter, Dwayne was one of the best defensive center fielders of the decade, winning 6 straight Gold Gloves from 1980 to 1985.
Kirby Puckett
Minnesota Twins (1984-89)
Hall of Fame:
Inducted in 2001
All-Star:
1986-89
Awards:
1989 ALCS MVP
Gold Gloves:
1986-89
Silver Sluggers:
1986-89
Postseason:
1987 WS
League Leader:
1987 Hits, 1988 Hits, 1989 Hits & AVG
Notes:
One of the most prolific hitters of his era, Kirby was also a whiz in the field too, earning as many Gold Gloves in the 80's as he did Silver Bats. Kirby is credited as having given the nickname "Donnie Baseball" to Don Mattingly.
Gorman Thomas
Milwaukee Brewers (1980-83, 1986), Cleveland Indians (1983), Seattle Mariners(1984-86)

All-Star:
1981
Postseason:
1981 ALDS, 1982 WS
League Leader:
1982 Home Runs
Notes:
How the hell was Gorman a center fielder? Pretty much always hitting for power (his career AVG is .225), Gorman led the AL in home runs in 1982 with 39. Gorman is also the only player listed here with his own barbecue stand at Miller Park.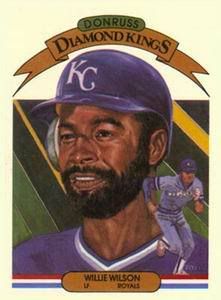 Willie Wilson
Kansas City Royals (1980-89)
All-Star:
1982-83
Gold Gloves:
1980
Silver Sluggers:
1980, 1982
Postseason:
1980 WS, 1981 ALDS, 1984 ALCS, 1985 WS
League Leader:
AVG (1982), Runs (1980), Hits (1980), Triples (1980, 1982, 1985, 1987-88), Singles (1980-82)
Notes:
Wilson was a mainstay at center for Kansas City throughout the decade. Known for his blazing speed, Willie finished in the top 5 for steals in the AL from 1980-88. He also led the league in triples 5 different times in the decade. His career 668 stolen bases puts him 12th on the all-time list.




Be sure and vote for your choice of AL Center Field for the TMS All-80's Team. Check out the poll in the left sidebar.