Astroturf, powder blue uniforms, wearing
batting helmets in the field
to protect your jheri curl, hitting 25 homers and being considered a legitimate slugger, big-league hair, that horrible gum from packs of baseball cards.... who doesn't love baseball from the 80's? Over the next several weeks I will be looking at the best players of the decade as we assemble the
TMS All-80's Team
. We've finished with the National League and now we'll tackle the Amer
ican. To meet the criteria a player will have to have played in at least 4 seasons in the 1980's and they must have played the bulk of their games at a certai
n position during that time to qualify there. Included will be a poll on the left sidebar, so our fait
hful readers can weigh in on this great debate. But remember, we're focusing on a player's contributions in just the 1980's. What they did in the decades before and/or after are not being considered in this.

Last week we covered AL SS. Cal Ripken rallied late to win the poll and will be the starting shortstop for the American League.

AMERICAN LEAGUE LEFT FIELDERS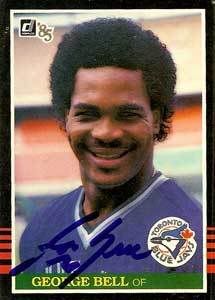 George Bell
Toronto Blue Jays (1981-89)
Nickname:
Liberty
All-Star:
1987
Awards:
1987 AL MVP
Silver Sluggers:
1985-87
Postseason:
1985 ALCS, 1989 ALCS
League Leader:
1987 RBI
Notes:
Looking at the photo on his baseball card, you'd think George was a jovial character. On the contrary, Bell was an ornery bastard. He was surly and lackadaisical in his play in the field. He even once tried to karate kick Boston pitcher Bruce Kison once, in a move that was
imitated years later
by Chan Ho Park. But dammit George could hit, and in the mid-80's was one of the most feared sluggers in the league. Later on he would sign on with the Cubs and eventually become trade bait for the White Sox as we end up with Ken Patterson and some Sammy Sosa dude.
Joe Carter
Cleveland Indians (1984-89)
League Leader:
1986 RBI
Notes:
From one ex-Cub to another, Carter spent the bulk of the decade with the Cleveland Indians. Joe was a big-time slugger for the Tribe, having 3 100-RBI seasons with them. In1989 he was traded to the Blue Jays, where he would later become a Toronto legend. Carter later went on to pollute the airwaves as the worst Cubs announcer ever, and that's even counting Dave Otto.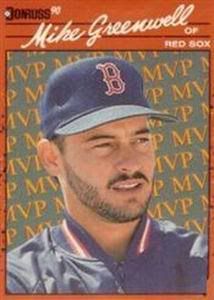 Mike Greenwell
Boston Red Sox (1985-89)
Nickname:
The Gator
All-Star:
1988-89
Silver Sluggers:
1988
Postseason:
1986 WS, 1988 ALCS
Notes:
Greenwell was a stud in 1988, hitting .325 with 22 homers and 119 RBI, finishing second to Jose Canseco for the AL MVP award (It's hard to beat 42 homers with 40 stolen bases). Greenwell never quite lived up to expectations after that season but nonetheless provided the Red Sox with some decent pop in their lineup. Mike now
races trucks
or something.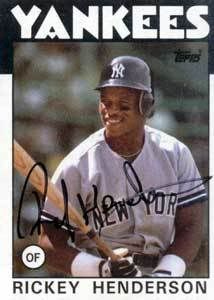 Rickey Henderson
Oakland A's (1980-84, 1989), New York Yankees (1985-89)
Nickname:
The Man of Steal
All-Star:
1980, 1982-88
Awards:
1989 ALCS MVP
Gold Gloves:
1981
Silver Sluggers:
1981, 1985
Silver Sluggers:
1981 ALCS, 1989 WS
League Leader:
Runs (1981, 85, 86, 89), BB (1982, 83, 89), Stolen Bases (1980-86), (1988-89)
Notes:
The only player I know that has a section in their Wikipedia entry entitled "
Malapropisms
" which lists various quotes and anecdotes of him speaking in the third-person. My personal favorite being that he's known to take practice swings in front of a mirror fully nude while saying "Rickey's the best! You tha man, Rickey!"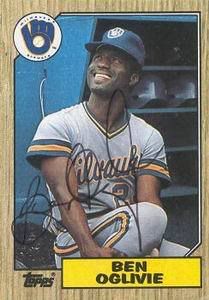 Ben Oglivie
Milwaukee Brewers (1980-86)

All-Star:
1980, 1982, 1983
Silver Sluggers:
1980
Postseason:
1981 ALDS, 1982 WS
League Leader:
1980 Home Runs
Notes:
Oglivie was good power hitter in the early 80's and along with Ted Simmons, Cecil Cooper, Robin Yount, and Gorman Thomas, provided the Brewers one of the most potent hitting lineups in the American League. In 1980, Oglivie shared the home run title with Reggie Jackson, hitting 41.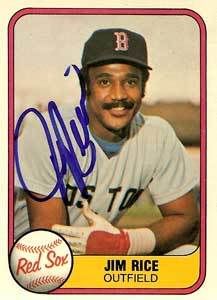 Jim Rice
Boston Red Sox (1980-89)
All-Star:
1980, 1983-86
Silver Sluggers:
1983-84
Postseason:
1986 WS, 1988 ALCS
League Leader:
1983 Home Runs, RBI
Notes:
OK so I've argued that guys should be in the HOF before, but Rice I think is one that has been slighted the most. The guy put up extraordinary numbers for the time he played.




Be sure and vote for your choice of AL Left Field for the TMS All-80's Team. Check out the poll in the left sidebar.