There are few things as fashionable in the NFL as bagging on Norv Turner. Not even that pink Tony Homo jersey
Jessica "Boobs" Simpson
wore to the game on Sunday. Bashing Norv is as American as mom, apple pie, and inexplicable hatred of the metric system.
But why?
Well, we're lazy. Its easier to just run with the narrative that Norv sucks than to actually do our research. I know what you're saying, "In this hectic post-9/11 world, I can't be bothered to check facts." Fortunately, I can be bothered.
1. The Redskins have been a mess since 1992.
In seven seasons with the Redskins, Norv took them to the playoffs only once. Look at his roster during that time though. The year before Norv took over the Skins, Richie Petibon led the old team he inherited from Joe Gibbs to a 4-12 record. Gibbs essentially left the cupboard bare save for a few guys who needed to be put out to pasture. During his tenure in Washington, Norv got to coach legendary draft busts like Reggie Brooks, Congressman Heath Shuler (D-NC), and Michael Westbrook. The one year they made the playoffs, 1999, was coincidentally the one year they had a QB putting up good numbers. Among those to take snaps during the Turner era are Jeff George, Jeff Hostetler, John Friesz, Gus Frerotte, and the aforementioned honorable gentleman from North Carolina, Heath Shuler.
Beyond that, look at the Redskins post-Norv. They finished over .500 three times during his tenure as coach, something they have done only once in the seven years since he was unceremoniously sacked in favor of Terry Robiskie.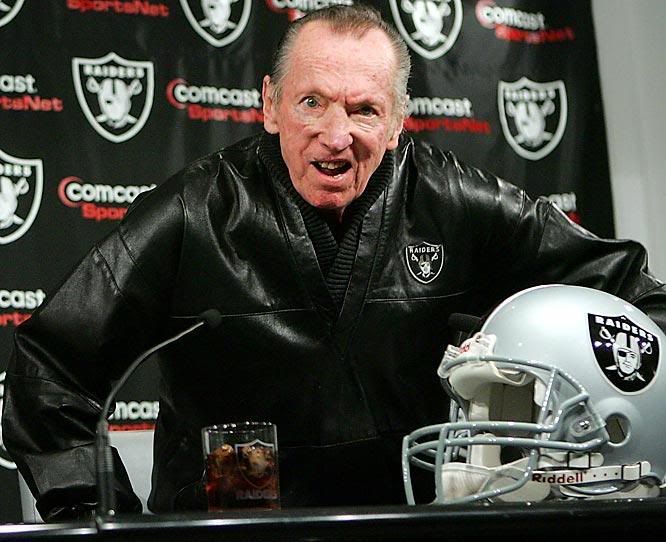 2. The Raiders are run by a senile old fart wearing rhinestones.
There may have been a time when Al Davis knew how to run a football team, but that time has come and gone. Since their 2002 Superbowl appearance, the Raiders haven't won more than five games.
Once again, Vince Lombardi couldn't win with the rosters Norv was given. The starting QB during Norv's two year tenure? Kerry Collins... The Raiders leading rusher in 2004? "Famous" Amos Zereoue...with 425 yards.
Fortunately for his career, Norv wasn't allowed to languish in Oakland long and was fired in favor of Art Shell, who apparently had been waiting twelve years for Al Davis to give him another shot.
3. Norv finally gets to coach a team with talent...but its in turmoil.
Finally, after paying his dues with crap for nine seasons, Norv gets hired to coach the San Diego Chargers. The Chargers are arguably the best team in the league on paper, but they're in turmoil. Their coach was fired after a 14-2 season because he can't win the in the playoffs (justifiably fired in my opinion) and both their offensive and defensive coordinators left to take head coaching jobs. I bet Cam Cameron wishes he could go back to San Diego, but that's another issue.You don't replace your entire coaching staff without a snag. It takes awhile to come together. We're seeing that now as San Diego is 8-2 in their last 10 games with 41-3, 35-10, and 51-14 blowouts in that stretch.
4. Phillip Rivers is overrated.
The Chargers are presently 9-5, which has been good enough to clinch an AFC West title, but they've done so largely in spite of Phillip Rivers. Rivers already has six more INTs than last year and has looked lost for good chunks of games. Against Indianapolis, he literally threw a pass so off target the refs had no choice but to flag him for intentional grounding. Frankly, he should have gotten another flag for it against Tennessee two weeks ago.
5. LT is down from last year.
...but he was out of his mind last year. His yards per carry are down and contrary to what the Norv bashers would have you believe, he will in fact come close to the same number of carries this season when all is said and done.
So, my chilling preseason vision of the Chargers steamrolling to 16-0 isn't going to happen, but they are clearly coalescing around their coach now and are on a roll. I don't see anyone stopping New England now, but Norv taking the Bolts to the AFC Championship game isn't out of the question.