Astroturf, powder blue uniforms, wearing
batting helmets in the field
to protect your jheri curl, hitting 25 homers and being considered a legitimate slugger, big-league hair, that horrible gum from packs of baseball cards.... who doesn't love baseball from the 80's? Over the next several weeks I will be looking at the best players of the decade as we assemble the
TMS All-80's Team
. We will start with the National League and then we'll tackle the Amer
ican. To meet the criteria a player will have to have played in at least 4 seasons in the 1980's and they must have played the bulk of their games at a certai
n position during that time to qualify there. Included will be a poll on the left sidebar, so our fait
hful readers can weigh in on this great debate. But remember, we're focusing on a player's contributions in just the 1980's. What they did in the decades before and/or after are not being considered in this.
NATIONAL LEAGUE CATCHER
Johnny Bench
Cincinnati Reds (1980-83)
Nickname:
The Little General
Hall of Fame:
Inducted in 1989
All-Star:
1980, 1983
Notes:
Bench just barely qualifies for this as he was well into his twilight years once the 80's rolled around. In fact he played more games at 3B during the 1980's than he did at catcher, but we'll make an exception this time. If this were the All-70's Team he'd be shoo-in. Johnny is the only hall of fame catcher to have his very own
scotch
.
Gary Carter
Montreal Expos (1980-84), New York Mets (1985-89)
Nickname:
The Kid
Hall of Fame:
Inducted in 2003
All-Star:
1980-88
Gold Gloves:
1980-83
Silver Sluggers:
1981-86
Awards:
ASG MVP (1981, 1984); Roberto Clemente Award (1989)
Postseason:
1981 NLCS, 1986 WS, 1988 WS
NL Leader:
1984 RBI (106)
Notes:
Pretty much trumps all other NL catchers in this decade. His accolades speak for themselves. Carter also sported one of the great man-perms of the era.
Jody Davis
Chicago Cubs (1981-88), Atlanta Braves (1988-89)
All-Star:
1984, 1986
Gold Gloves:
1986
Postseason:
1984 NLCS
Notes:
A fixture behind the plate in Wrigley for most of the decade, Jody's play often caused Harry Caray to burst into songs about him. Davis was a Rule V draft pick by the Cubs in 1980. He currently manages the Peoria Chiefs, an A-ball affiliate of the Cubs. He's often confused with another Jody Davis, who's in a
christian rock band
.
Terry Kennedy
St. Louis Cardinals (1980), San Diego Padres (1981-86), San Francisco Giants (1989)
All-Star:
1981, 1983, 1985
Silver Sluggers:
1983
Postseason:
1984 WS, 1989 WS
Notes:
Terry was a solid hitting catcher for the Padres throughout the mid-80's, making 3 NL All-Star teams (He made one AL team in '87). In '86 Kennedy was traded to Baltimore for Storm Davis as San Diego made room for a young phenom catcher that we'll talk about shortly. Terry now stays busy managing the San Diego Surf Dawgs of the Golden Baseball League, which has gained notoriety by signing former major leaguers such as
Rickey Henderson
and
Jose Canseco
in recent years.
Mike LaValliere
Philadelphia Phillies (1984), St. Louis Cardinals (1985-86), Pittsburgh Pirates (1987-89)
Nickname:
Spanky
Gold Gloves:
1987
Notes:
I couldn't find a good picture of any of his 1980's cards so we'll have to settle for a 1992 Upper Deck card of Spanky. While he doesn't have all the accomplishments as his counterparts, Mike was a fan favorite in Pittsburgh. After a couple seasons in St. Louis, Mike came to the Steel City along with Andy Van Slyke. Who did Pittsburgh trade? I thought you'd never ask......
Tony Pena
Pittsburgh Pirates (1980-86), St. Louis Cardinals (1987-89)
All-Star:
1982, 1984-86, 1989
Gold Gloves:
1983-85
Postseason:
1987 WS
Notes:
Before Spanky, there was Tony. Pena was one of the best defensive backstops in the NL. Tony later managed the baseball anomaly that was the
2003 Royals
. His son Tony is a shortstop for the Braves.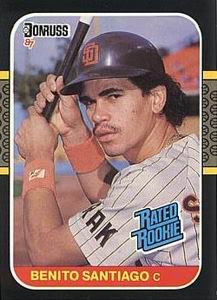 Benito Santiago
San Diego Padres (1986-89)
All-Star:
1989
Awards:
NL ROY (1987)
Gold Gloves:
1988-89
Silver Sluggers:
1987-88
Notes:
The year was 1987. With Terry Kennedy sent away to Baltimore, the stage was set in San Diego for the emergence of young Puerto Rican phenom Benito Santiago. Benito was a 22-year old rookie, with an amazing glove, a hot bat, speed on the basepaths and the best dirtlip moustache of the decade. In his later years, Benito morphed into
cro-magnon man
.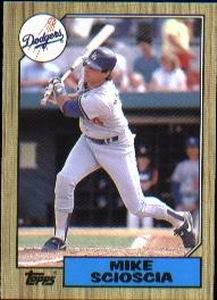 Mike Scioscia
Los Angeles Dodgers (1980-89)
All-Star:
1989
Postseason:
1981 WS, 1985 NLCS, 1988 WS
Notes:
Before he took the reins of the Los Angeles California Angels of Anaheim next to Garden Grove, Scioscia was on the other side of the Orange Curtain, playing behind the plate at Chavez Ravine. For the entire decade, Scioscia was the Dodgers main catcher and was a part of three postseason appearances and two world championships.
Be sure and vote for your choice of NL Catcher for the TMS All-80's Team. Check out the poll in the left sidebar.