Astroturf, powder blue uniforms, wearing
batting helmets in the field
to protect your jheri curl, hitting 25 homers and being considered a legitimate slugger, big-league hair, that horrible gum from packs of baseball cards.... who doesn't love baseball from the 80's? Over the next several weeks I will be looking at the best players of the decade as we assemble the
TMS All-80's Team
. We will start with the National League and then we'll tackle the Amer
ican. To meet the criteria a player will have to have played in at least 4 seasons in the 1980's and they must have played the bulk of their games at a certai
n position during that time to qualify there. Included will be a poll on the left sidebar, so our fait
hful readers can weigh in on this great debate. But remember, we're focusing on a player's contributions in just the 1980's. What they did in the decades before and/or after are not being considered in this.

Last week we tackled the NL 2B. Ryne Sandberg won the online poll and has been named the starting 2B to the TMS All-80's National League Team.

NATIONAL LEAGUE THIRD BASE
Bobby Bonilla
Pittsburgh Pirates (1986-89)
Nickname:
Bobby-Bo
All-Star:
1988-89
Silver Sluggers:
1988
Notes:
Bonilla got his start late in the 1980's as a third basemen for Pittsburgh. He emerged as one of the premier sluggers at the hot corner and with Barry Bonds, made up one half of the feared Killer B's.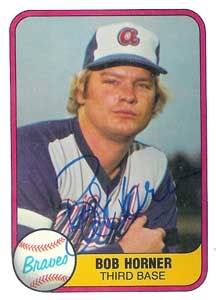 Bob Horner
Atlanta Braves (1980-86), St. Louis Cardinals (1988)
All-Star:
1982
Postseason:
1982 NLCS
Notes:
Horner would've probably been better suited as a DH in the American League, but in the early to mid-80's he was a heavy hitting 3B for the Atlanta Braves. Plagued with injuries, Horner spent one season in Japan before coming back with the Cardinals in 1988. He hung it up after that. On July 6, 1986 Horner hit four home runs in a single game. That feat would not be seen again until 7 years later when Hard Hittin' Mark Whiten hit 4 in a game with the Cardinals.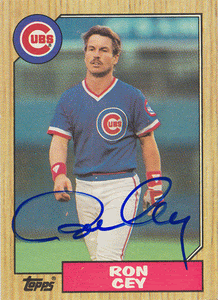 Ron Cey
Los Angeles Dodgers (1980-82), Chicago Cubs (1983-86)
Nickname:
The Penguin
Awards:
1981 WS MVP, NL Babe Ruth Award, 1982 Lou Gehrig Award
Postseason:
1981 WS, 1984 NLCS
Notes:
While the Penguin had his best years a decade earlier in LA, he still managed to crank out a few good seasons with the Cubs. Cey led the team in home runs in 1983 and 84. In 1981 Ron shared the World Series MVP with fellow teammates Pedro Guerrero and Steve Yeager.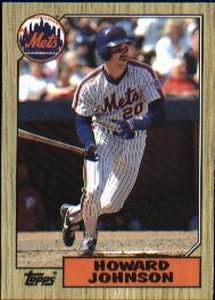 Howard Johnson
New York Mets (1985-89)
Nickname:
HoJo
All-Star:
1989
Silver Sluggers:
1989
NL Leader:
1989 Runs (104)
Notes:
Remember Howard Johnson? No, not the crappy hotel chain but the player. HoJo became a slugging force for the Mets in the latter part of the decade. Johnson also has two World Series rings despite not really participating much in either. With the Tigers in '84 and with the Mets in '86, he went a combined
0 for 6 at the plate with 2 strikeouts.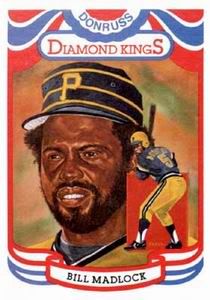 Bill Madlock
Pittsburgh Pirates (1980-85), Los Angeles Dodgers (1985-87)
All-Star:
1981, 1983
Postseason:
1985 NLCS
NL Leader:
1981 AVG (.341), 1983 AVG (.323)
Notes:
The Pirate fans really came out for Johnny Ray last week. We'll see if Bill Madlock gets some love too. Madlock was an outstanding hitter for the Bucs in the early part of the 80's, garnering 2 batting titles in the process. In 1985 the Pirates shipped Madlock to the Dodgers for some players to be named later. Those players ended up being R.J. Reynolds, Cecil Espy and the infamous Sid Bream.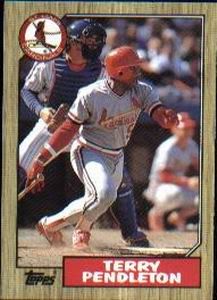 Terry Pendleton
St. Louis Cardinals (1984-89)
Gold Gloves:
1987, 1989
Postseason:
1985 WS, 1987 WS
Notes:
Before his MVP caliber seasons in Atlanta, Terry spent his days playing 3B for St. Louis. A solid gloveman, Pendleton racked up two Gold Gloves for the Cards and helped lead them to two World Series appearances. Pendleton appeared in 5 World Series' total in his career, never winning one of them.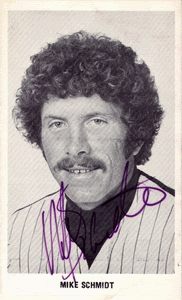 Mike Schmidt
Philadelphia Phillies (1980-89)
All-Star:
1980-84, 1986-87, 1989
Hall of Fame:
Inducted in 1995
Awards:
1980 NL MVP, WS MVP, 1981 NL MVP, 1983 Lou Gehrig Award, 1986 NL MVP
Gold Gloves:
1980-84, 1986
Silver Sluggers:
1980-84, 1986
Postseason:
1980 WS, 1981 NLDS, 1983 WS
NL Leader:
1980 SLG....ah Christ! There's too much to list. Just go
here
if you're interested.
Notes:
If there was ever a poll that probably didn't need to happen for this it'd be at NL 3B. Mike Schmidt absolutely buries the competition here. Plus look at that photo. The 'stache the
Mike Brady hair
. Chicks and dudes alike dug Schmitty.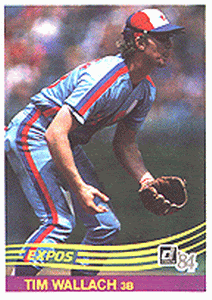 Tim Wallach
Montreal Expos (1980-89)
All-Star:
1984-85, 1987, 1989
Awards:
1980 NLCS MVP
Gold Gloves:
1985, 1988
Silver Sluggers:
1985, 1987
Postseason:
1981 NLCS
NL Leader:
1987 Doubles (42), 1989 Doubles (42)
Notes:
Looking at all the stats and what not, I'd say that if Mike Schmidt wasn't on this list, Tim Wallach would probably be the front-runner. Tim quietly put up good numbers throughout the 80's and had a great glove to back it up. One of those guys that played the bulk of their career in Montreal that probably didn't get as much recognition as he should.
Be sure and vote for your choice of NL Third Basemen for the TMS All-80's Team. Check out the poll in the left sidebar.