There are three other series going on right now. Here's whats happening:
Colorado/Philadelphia
Its over Rock! Ya got nothin left!
The Phillies are down for the count. Losing 10-5 to Colorado today, they head to Coors Field in a huge hole. Eager to start their vacations, the Phillies are going with 78 year old junkballer Jaime Moyer in game three.
The Rockies came in hot and have continued. Frankly, I give almost all the credit to Todd Helton's mountain man beard. Like Jake Plummer before him, Todd has realized the secret to success in Colorado is a gradual transformation into
Grizzly Adams.
Game Three Predition: Colorado wins 14-5
Boston/California of Los Angeles of Anaheim
Talent wise, the Angels are probably the best team in the playoffs. They just don't seem to do well against Boston. Josh Beckett is nails in the playoffs and he proved it again by throwing a complete game shutout to open the series.
Guerrero is hurting, but returning to the outfield. Unfortunately for him, he gets to face Matsuzaka and Schilling in the next two. Keep an eye out for bloody socks.
Series Prediction: Boston 3-1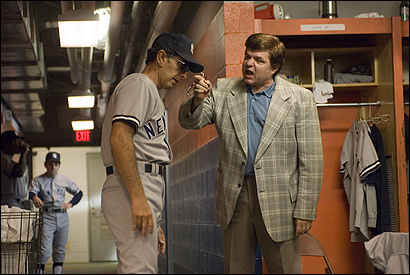 Cleveland/New York
Not being on the ESPN payroll, I'm allowed to say this: the Yankees aren't very good.
Their pitching is old and sorry, so they have to rely on clubbing the other team to death. Problem is, their best hitter (MLB's best hitter) Alex Rodriguez, has a history of choking in the playoffs.
I don't know much about the Indians. Kenny Lofton has played for every team in the league and half of the Japanese league now right? CC Sabathia is still a fatass? Good, then all is right with the world. How the hell did this team make the playoffs?
They're beating the snot out of New York right now and even though I want to see the Yankees run out of town on a rail, I'm nearly falling asleep from boredom. I don't know if its just AL baseball or the human insomnia cure Chip Carey though.
Series Prediction: Cleveland 3-2